About our team
At the risk of sounding cheesy, we truly believe that your wildest dreams can come true.
Have you ever been told your vision is too outragous, too unconventional, too… impossible? Us too, but we didn't listen.
Since we founded 'Cause We Can Events in 2012, we've done it all: from building a three-day festival wedding in the Moab desert with live bands and unlimited food and drinks to hiking with a couple and their 30 guests to a river in Scotland in the pouring rain. We're more than just a full service wedding planning company. We want to focus on the experience, not just the pretty details.
Underlying every event we've planned is a sense of adventure and a deep love of the great outdoors and all of the natural elements that are a part of it. We've all been to that incredibly gorgeous, but totally predictable ballroom wedding, where the food is bland, the schedule is set and the pictures and speeches consume the entire night. It might be the wedding our parents wish we'd have, but it's also the kind of event that makes the curious, adventurous souls among us want to elope.
If you've been dreaming of an out-of-the-box, non traditional wedding experience but you're not quite sure how to pull off, come and tell us everything, starting with the most off-kilter or outrageous details. We might not be able to put you on the moon, but we'll try our best to make your dream come to life, among the trees, under the stars, on a dance floor made of dirt or sand–or if it suits you, yoga mats. We're up for anything.
Our ideal couples are
Adventurous and willing to get their hands and their dresses dirty
Obsessed with fun, but are also decisive and responsible
Open and willing to try new things
Eager to create a memorable experience, but aren't stuck on the details
Not trying to top other weddings, but want the event to be personal, memorable and unique to their identities
Understand the value of including professional vendors to ensure their event runs smoothly and safely
All are welcome here.
At 'Cause We Can Events we celebrate all religions, races, sexual orientation, gender identities, abilities, and ethnicities. From the couples we serve to the teams we build, we are committed to making room for everyone at the table.
We give back.
We donate a portion of our proceeds and take time to volunteer at some of our favorite local nonprofits in Tennessee and Maine. We have a soft spot for animals.
Like what you see?
If we've struck a chord with you and your sig fig, or you want to learn more about what we do, hit us up at hello@causewecanevents.com.
We can't wait to bring your wildest dreams to life!
Meet the team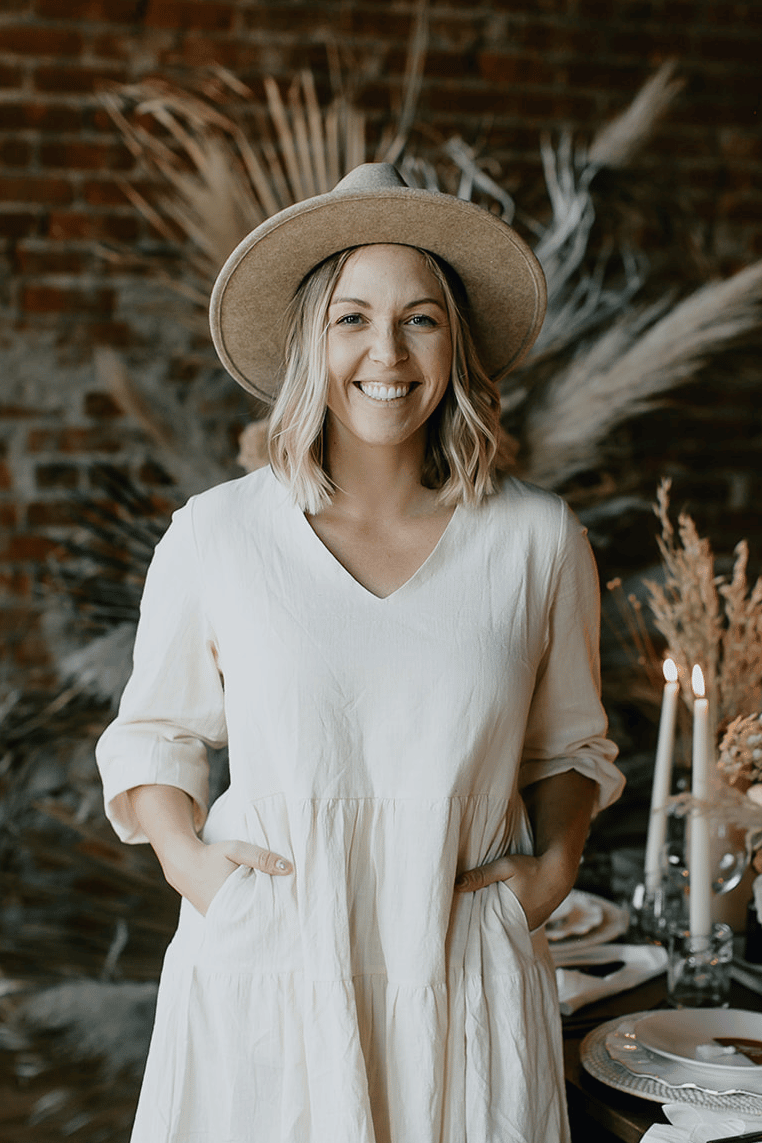 Founder & CEO / Nashville
Gabrielle Pinkerton
Hi there! I'm Gabby and I'm the Founder and a lead planner at 'Cause We Can Events. I started this company in 2012 in the hopes of producing events for causes (see where the name came from?). I worked for a few non profits, planned some yoga festivals and wonderful dinner galas but I kept feeling myself being pulled more toward weddings. I loved the idea of being in nature and celebrating love under the stars. This is where I started specializing in adventurous, outdoor, destination weddings for couples who love to travel, wander and get inspired by nature. But don't worry, we still get involved with non profits as much as we can by donating after every event.
I was born and raised in beautiful Montreal, Canada, and was surrounded by nature's beauty early on. Wanting to discover the West Coast, I moved to Manhattan Beach in 2010 and founded 'Cause We Can Events shortly after. For 3 years my husband and I lived on a boat and it was truly the best and most adventurous time of our lives. Most recently, we bought our first home in Nashville, TN where I can be surrounded by lakes and trees again! Sound like we would get along?
Lead Planner / Maine
Jessica Pancake
Hey! I'm Jessica. My event career started in 2010, where I met Gabby. Since that moment, I have been on a journey to really learn the ins and outs of the events industry. I have worked with catering companies, rentals and florists directly. I feel that it has helped me understand how to successfully build an event not just for our clients but for our vendors as well. In 2018, I officially joined the 'Cause We Can Events team and haven't looked back since. I am thankful for the niche market Gabby has created. I feel drawn to those who are looking for a unique, adventurous and casual vibe on their wedding day. With the travel bug deeply rooted, I love that we get to work with couples who have traveled far and wide and who also want to share that with their friends and family on their special day.
On a personal note, I was born and raised in the suburbs of Los Angeles. Funny enough, I, too, lived on a boat in California but after 3 magical years on the water, decided to move all the way to Maine for a new adventure. Out here I'm growing 'Cause We Can Events' East Coast brand and traveling to destinations near and far for our weddings and corporate events.
lead planner / Tennessee
Megan Davis
Hi, I'm Megan! My experience in weddings dates back to 2016 when I was chosen to be an intern for a wedding floral and catering company. Immediately after starting, I knew I wanted to learn how weddings were put on from all the different angles. Aside from the food and florals, I've played a role as a Venue Representative, Bartender, and even Ceremony Music Operator during an emergency situation (though my goal is to never have to play that role again)!
But my passion is most clearly felt as a Planner. I consider myself fortunate to assist so many lovely, diverse couples during such an important part of their life.

From me, you can expect a calming presence, ready to navigate the many elements involved in executing your wedding – making it a day that everyone involved will remember with fondness.
planning assistant / Tennessee
Abby Greskovic
Hi! I'm Abby! My event planning journey began Summer 2022 when I had the privilege of interning with the Nashville Wedding Planners Group. I worked as an assistant with several different wedding planners as well as clients, and it was an incredible opportunity to see the beautiful weddings, as well as witness how each wedding planner differs from another. I met Gabby through this internship, specifically at a brunch the planners hosted to welcome the interns. After talking with Gabby, we instantly connected and she let me know of a Pinterest Strategist position open at Gabby Pinkerton Co. Being also invested in the social media world, I was highly intrigued and took the position. It has been several months now working at Gabby Pinkerton Co. and the position has greatly sharpened my Pinterest skills as well as enhanced my client communication skills.
I am a Pennsylvania native but have lived in Nashville for a few years now, attending school at Belmont University as a Social Media Management major with a Psychology minor. Upon my graduation in May 2023, I am excited to continue expanding on my event planning journey while also continuing to show my expertise in the realm of social media. If I am not working or at school, I am most likely calling my loving parents back home or watching New Girl with my boyfriend.
I have personally seen you in actions many times while I've photographed weddings. You've not only been incredible to me but to every client we've worked with together. I've worked with many coordinators in the past and what makes you stand out is that you handle stress with such grace, you can laugh off the tough moments, roll with the punches and adapt, you are always kind even to the oddballs, you treat your team, clients and other vendors with love, you go above and beyond and you don't micromanage people…you know how to keep it all running while letting everyone shine.

Lauren Mihae