When Sammy and Joel asked if we would help them plan their Laguna Beach elopement because they live in Australia, we jumped for joy! Elopements are a wedding planner's dream come true. We get to do some styling, find really cool places for dinner and intimate settings for a ceremony and only have to worry about 4-10 guests!
The day started out with the girls getting their hair and makeup done with probably the best ocean view you could ask for in Laguna Beach. We popped some rosé and put on some good girly tunes to get everyone excited for the day ahead. One thing I love about elopements is that you have a lot more time to take it easy in the morning and hang out with your bestie.
The boys got ready ready in the next room over and I had to help them with a double windsor tie knot. NO CLUE WHAT THAT WAS ha! Thank you Google. After a few failed attempts, we succeeded and the groom and his best man looked so dapper!
Once everyone was ready, we left the Pacific Edge Hotel and drove a few miles down the road to Crescent Bay Beach where we set up for the intimate ceremony. How adorable was Joel's reaction when he saw his bride, Sammy for the first time!!?
TIP: Make sure to check with the city about any permits that might be required when doing events on public beaches!
After the long, beautiful walk down the beach, the ceremony began and it was lead by my all-time favorite yogi & officiant, Matt. I had the pleasure of holding up the couple's phone so that their families could be Skyped in all the way from Australia!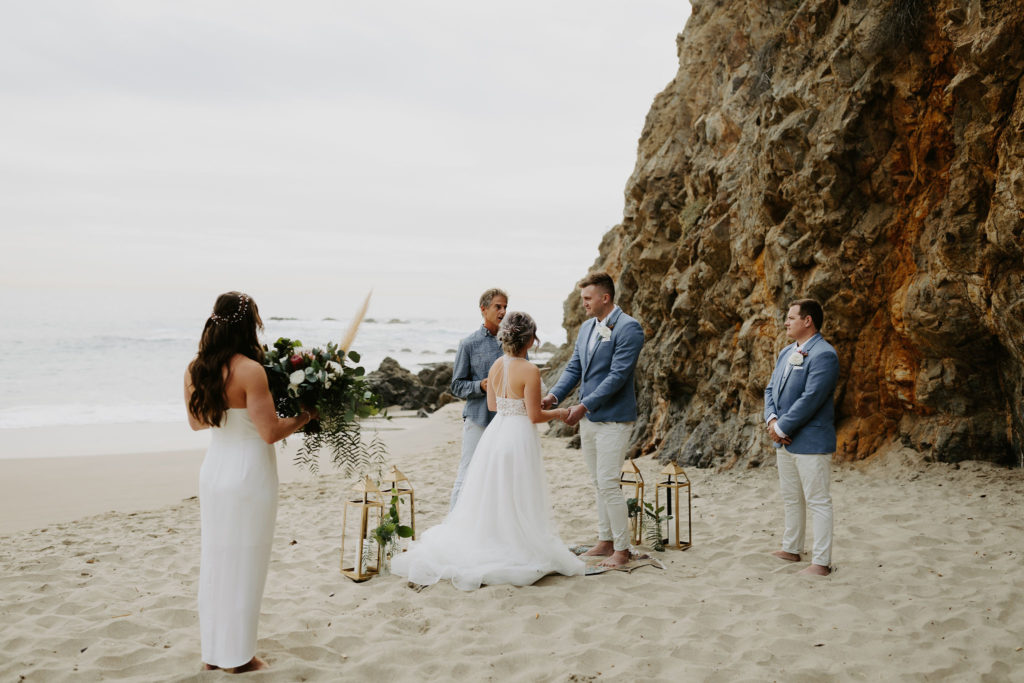 We had to make sure they took full advantage of this beach setting so their photographer, Lauren, took them for a little adventure around the beautiful Laguna Beach cliffs. Check these photos out!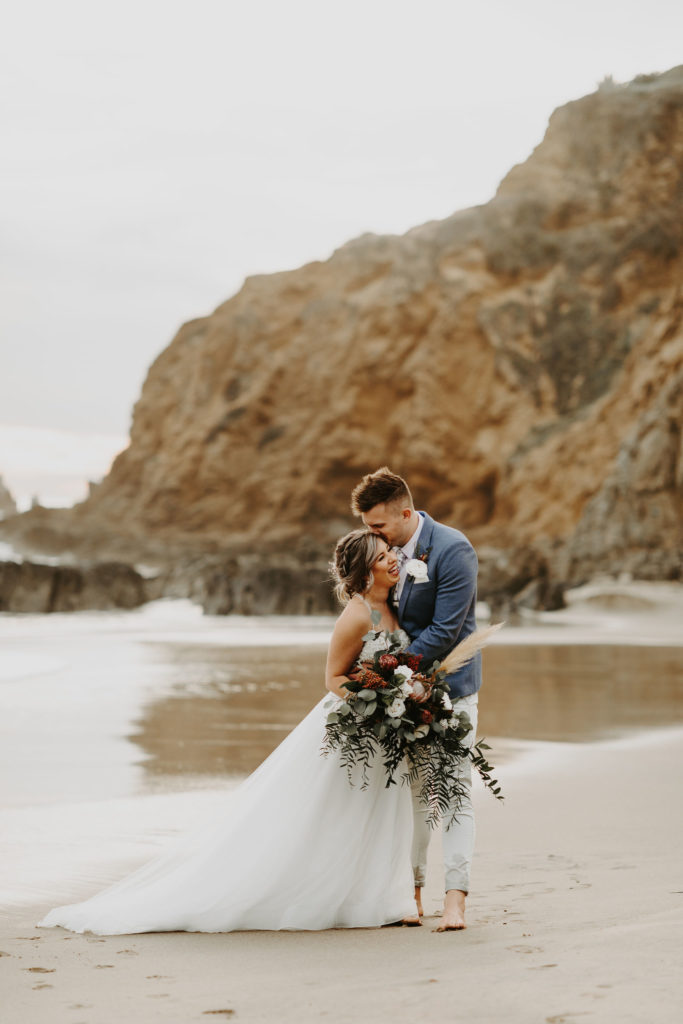 We truly had a blast with these two Australian beauties and loved creating a fun and unique elopement experience for them. What I love even more about elopements like this is that we really get to spend time with the couples and just "hang out"! We all had dinner together the night before their wedding and watched the sunset over the Pacific Ocean which is always a treat in my books.
Photographer Lauren Mihae // Planning + Design 'Cause We Can Events // Florals Flower Duet // Officiant Matt Rothert // Beauty Beach Bridal Beauty // Getting Ready Hotel Pacific Edge //