Weddings are a celebration of love, laughter, and happily-ever-afters. And when Jessica and Matthew decided to tie the knot at the stunning Venue808 in sunny San Diego, it was a match made in wedding heaven. Let's take a closer look at this enchanting affair while answering some of the most asked questions about this dreamy wedding venue.
What makes Venue808 the perfect location for a wedding?
Well, apart from the fact that it's located in the beautiful city of San Diego, Venue808 offers a very unique setting that could make even the grumpiest wedding crasher crack a smile. Imagine saying "I do" in a modern industrial building that has indoor trees, large windows to let in natural light and a chapel that can convert to a secret party later on. You're curious now aren't you?
What style weddings does Venue808 accommodate?
The good news about this wedding venue is that it's a blank canvas for us planners and designers to get creative with. The space has some built-in elements such as the real trees, large metal dining tables, the bar and some lounge seating that you have to work around but it's also really great to already have that included.
Depending on the couple's priorities, we'll design the wedding to fit their needs and make sure it's unique to them. For this wedding, Jessica and Matthew wanted a lot of space for guests to play games during cocktail hour since there were several non-drinkers. They also wanted to create the floral arrangements in a way that could be repurposed during the reception (something I personally love doing to avoid waste).
Something really special about this venue is the built-in chapel. Some couples will use it for their ceremony while others will turn it into a dance floor after dinner. For Jessica and Matthew, we opted to have their Korean ceremony there so that our team would have time to move all the chairs from the ceremony to the reception while they were using the chapel.
How much is the Venue808 rental fee and what is included?
In 2022, Venue808's rental fee was $6000 which is very reasonable for a downtown San Diego venue. You have the entire venue from 11:00am – 1:30 am. Keep in mind, couples who book there MUST use their catering company, Social Tap for food and drinks. That being said, here's what the venue includes:
18,000 SqFt – Indoor with a capacity of 350 Seated / 1,000 Standing
Farmhouse Chapel
Grove of 5 Olive Trees
Market String Lights
Prep Kitchen
(2) Furnished Suites, (2) Breakout Rooms with TVs
(11) Restrooms
Built in Metal Farm Tables for 140 guests (if you have a larger guest count you would rent additional tables from an outside company)
(140) Black Metal Chairs
(5) Belly Bars
As much as I can I like to share any tips or tricks I can offer up after working at venues so you can come prepared. I'll be honest and say we had a great experience at Venue808 and their team was incredible and so was the catering service. The tricky part was parking for guests. While I would encourage you to get a room block nearby for guests to be able to walk over, parking is possible in nearby lots as long as you pre-purchase vouchers.
The night of this wedding, there was a Bad Bunny concert at Petco Park and it made things extra challenging. Be aware of anything event happening the weekend of your wedding so you can plan to allow your guests extra time to get to the venue. Or hey, hire us and we'll take care of it!
Can you use the Venue808 chapel for dancing?
Absolutely and we encourage it! Not only can we work on transforming the space as a surprise to your guests after dinner, but it's a great way to keep the noise level down if other guests want to continue to sit at their dinner tables and chat.
While our photographer had already left for the night by the time dancing started, I did find a photo on my phone of me and the happy couple inside the chapel so you can see what it looks like!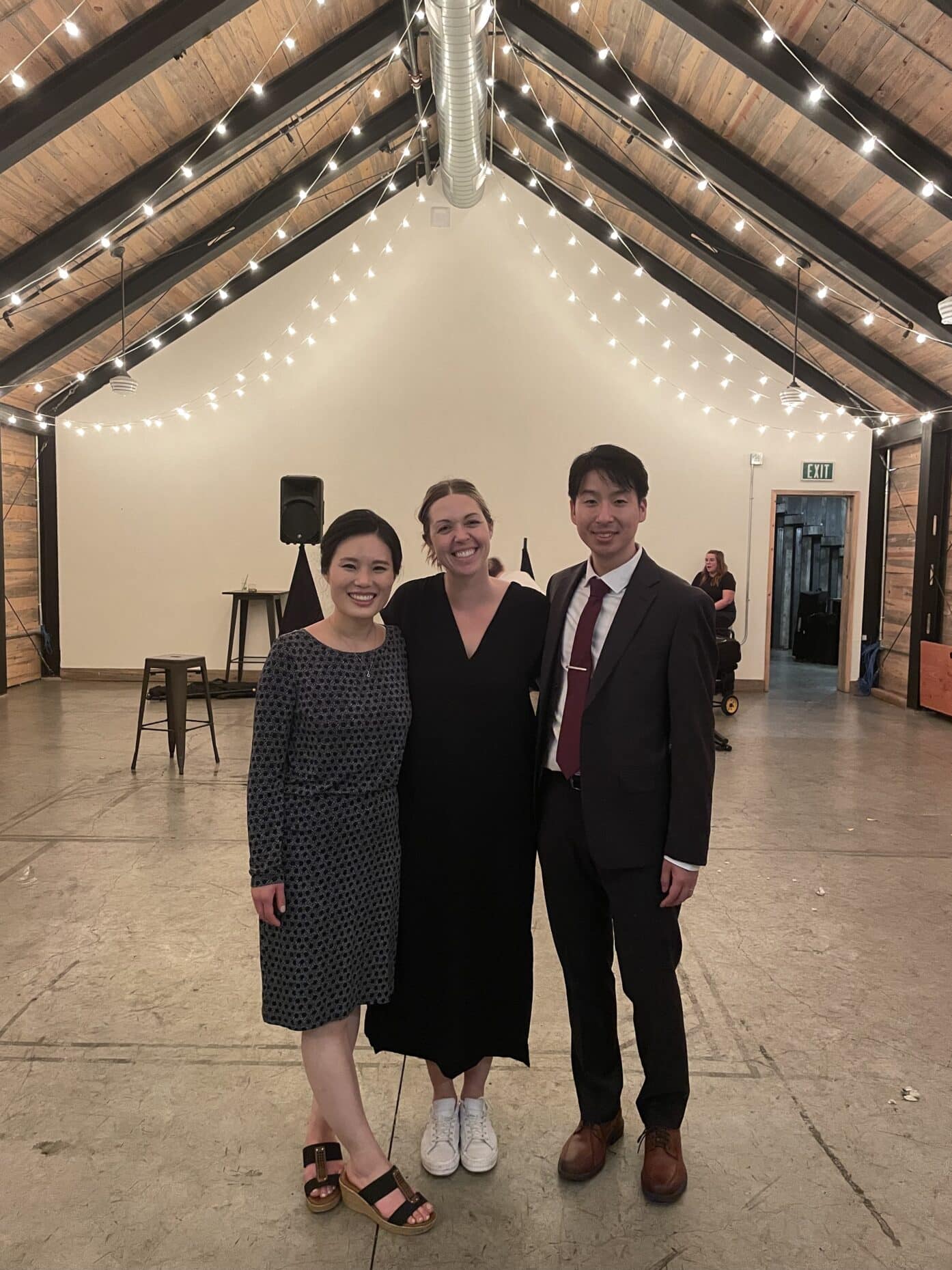 Hope you enjoyed this wedding at Venue808. If you need help planning, designing or coordinating your wedding there we would love to go back!
Vendor team
Wedding Planner: @causewecanevents
Photographer: Astray Photography
Florist @sisti.co
Stationery @mebcalligraphy
Hair/Makeup @makeupbysung
Photo booth, DJ & Quartet: @secondsong_official
Cake @babycakessandiego
Desserts @jennywennycakes
Band @diamondempireband
Rental @adorefolklore
Pedestals @enticingtablesweld
Venue/Catering: Venue808