Freshly engaged and planning your Tennessee wedding? You need to find the best venue for you! Keep reading for the top 7 unique Tennessee wedding venues to choose from that our planners adore.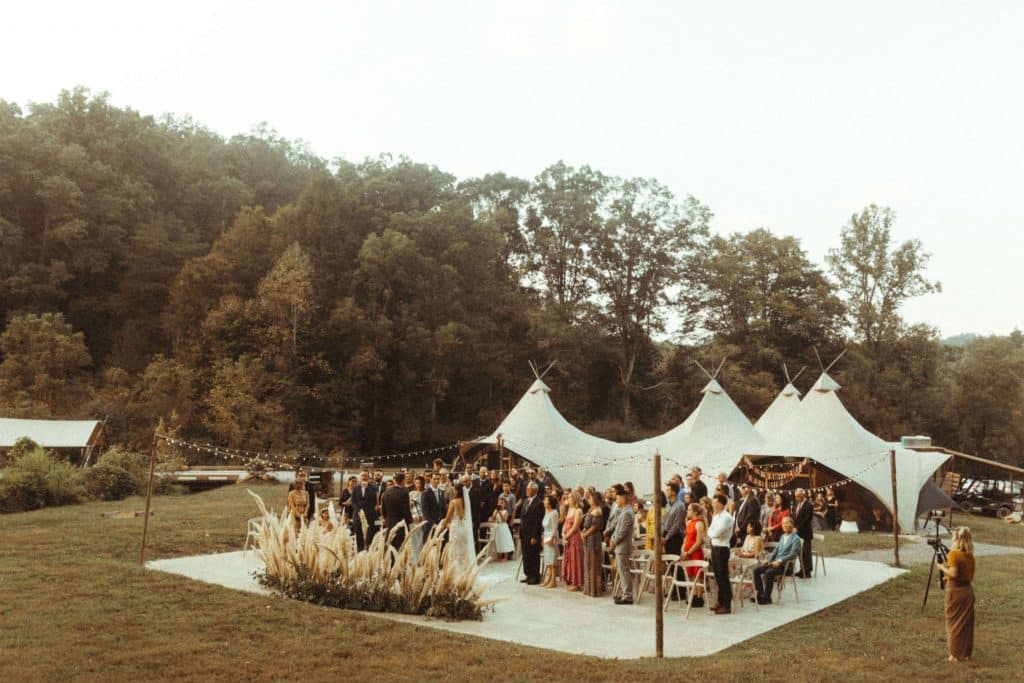 Saint Elle: Nashville, TN
Saint Elle is one of the newest venue spaces located in Nashville, Tennessee on this list. It offers a super modern look with an industrial flair. But, fresh greenery and spacious windows soften the space. There's an in-house bar available and getting ready spaces! Check out even more details about Saint Elle on our blog specially dedicated to it.
14Tenn: Nashville, TN
Want to refresh the rustic look for your wedding? Enter 14Tenn. We call this Nashville venue a Modern Farmhouse that also had a cool warehouse ambiance inside. This venue's high ceilings make a breathtaking statement. If you have a larger guest count, this is the place to be! Here's a blog with more information about the venue.
Common House: Chattanooga, TN
Common House Chattanooga officially opened in 2021 as a gathering, co-working, and event space. Plus, you can even dine at their delicious onsite restaurant. Fun fact: the building began as a YMCA so there are some impressive industrial features. Take a virtual tour here of what the venue has to offer!
Under Canvas Smoky Mountains: Pigeon Forge, TN
You know we had to include our absolute favorite Under Canvas location on this list! The Smoky Mountain location is a dream. This offers our signature glamping experience surrounded by the lush mountains. You and your guests can enjoy an unforgettable wedding weekend full of activities like hiking and yoga then say "I do"! Check out this dreamy festival-style wedding at Under Canvas Smokies for an example of how your wedding might look. Fun fact: these clients turned into some of my very best Nashville friends!
White Star Station: Maryville, TN
White Star Station is a historic industrial venue located in Downtown Maryville, Tennessee. We are loving the modern and versatile space. The charm and character paired with the chic aesthetic are so unique. Whether you are hosting an intimate celebration or an all-out wedding, they can accommodate a small group or up to 400 guests. In fact, we love this venue so much we can't stop blogging about it. To learn more about this unique space, check out the virtual tour first and then read about this intimate boho elopement for your wedding inspiration.
Germantown Inn: Nashville, TN
Last but not least, let's talk about the charming Germantown Inn located in Nashville. This is a wonderful venue if you are looking for a place where you and your spouse (maybe even a few guests) can stay! There are multiple onsite locations to choose from for your ceremony and reception. The inn's 1865 property was originally a Federal-style house that has been reimagined into a modern historic boutique hotel. Here's a blog for more details about the venue!
How to Complete Your Venue Tour
I didn't want to leave you hanging with all of these wonderful Tennesse wedding venue options! You might narrow down a few of these venues to tour in person. Even though I may not be able to be there with you in person, the 'Cause We Can Events team has you covered with our brand new Venue Walkthrough Checklist! This checklist is a tool that we use personally anytime we do a venue walkthrough for a client.
What's included in the Venue Walkthrough Checklist?
7 pages of MUST-ASK questions for every venue
Questions to help you budget properly
Pro tips from experienced wedding planners (us!)
Questions to help with your timeline
And more!
This is a one-stop-shop doc that will get you excited and feeling confident when doing your wedding venue walkthroughs. Ready to get organized? Grab this 7-page Venue Walkthrough Questionnaire for only $19!