To say it was a dream come true to plan a wedding on Nantucket would be an understatement. That being said, it was no walk in the park in terms of logistics. With Nantucket being a tiny island off Cape Cod, the only way to get there for vendors and guests was by ferry (or perhaps private helicopter for some!).
Since our team is well-versed in logistically challenging venues, we were the perfect wedding planners for the job. Let's take a look at how this beautiful Nantucket wedding turned out!
How do you get married on Nantucket?
A lot of you are probably wondering "how do you actually get married on Nantucket?". Well first and foremost, you will need a marriage license issued by the Town Clerk's Office. The marriage license fee is $50 and has a 3 day waiting period after it's been issued so plan accordingly!
Once the paperwork is done, you'll work with your planner (hi!) to find your vendors. Keep in mind that vendors that operate on the island are limited and book fast. If you're interested in bringing someone from outside Nantucket, you'll need to factor in some higher travel fees (ferry, on-island accommodations, etc.)
Planner tip: if you're planning a wedding on Nantucket, make sure you add a lot of buffer time in your timeline for travel snafus. The island gets really busy and packed with tourists during the summer and the traffic can really slow things down.
Ceremony at the historic Quaker House
Our team worked with the Nantucket Historical Association to plan an intimate ceremony at the Quaker Meeting House, now known as the Friends Meeting House. This historic building was built in the 1800s and offers an old world charm for a wedding ceremony on Nantucket. The Quaker Meeting House offers a neutral backdrop for a ceremony that doesn't feel over the top but more so a special and inviting space to exchange vows.
As guests arrived, they were greeted by a charming historical building adorned with a simple green garland framing the large door. Our team wanted to create a design that mimicked the simplicity of Nantucket charm with hints of modern design. Our florist, Hearts and Honey Do, added greenery to the interior of the Quaker Meeting House to mirror the outside space as well as tie in what would be the reception space at Via Mare. It was important to our couple that their Bernese Mountain Dogs, Lady Bear & Bandit, could be a part of their wedding ceremony. Fortunately, the Nantucket Historical Association allowed for them to be a part of the ceremony and they stole the show as they trotted down the aisle.
Our couple, Austin and Matt did some portrait photos at Brant Point which has a beautiful lighthouse and sandy beach. If you're thinking of getting married on Nantucket, definitely consider allocating some time to do photos here, you won't regret it!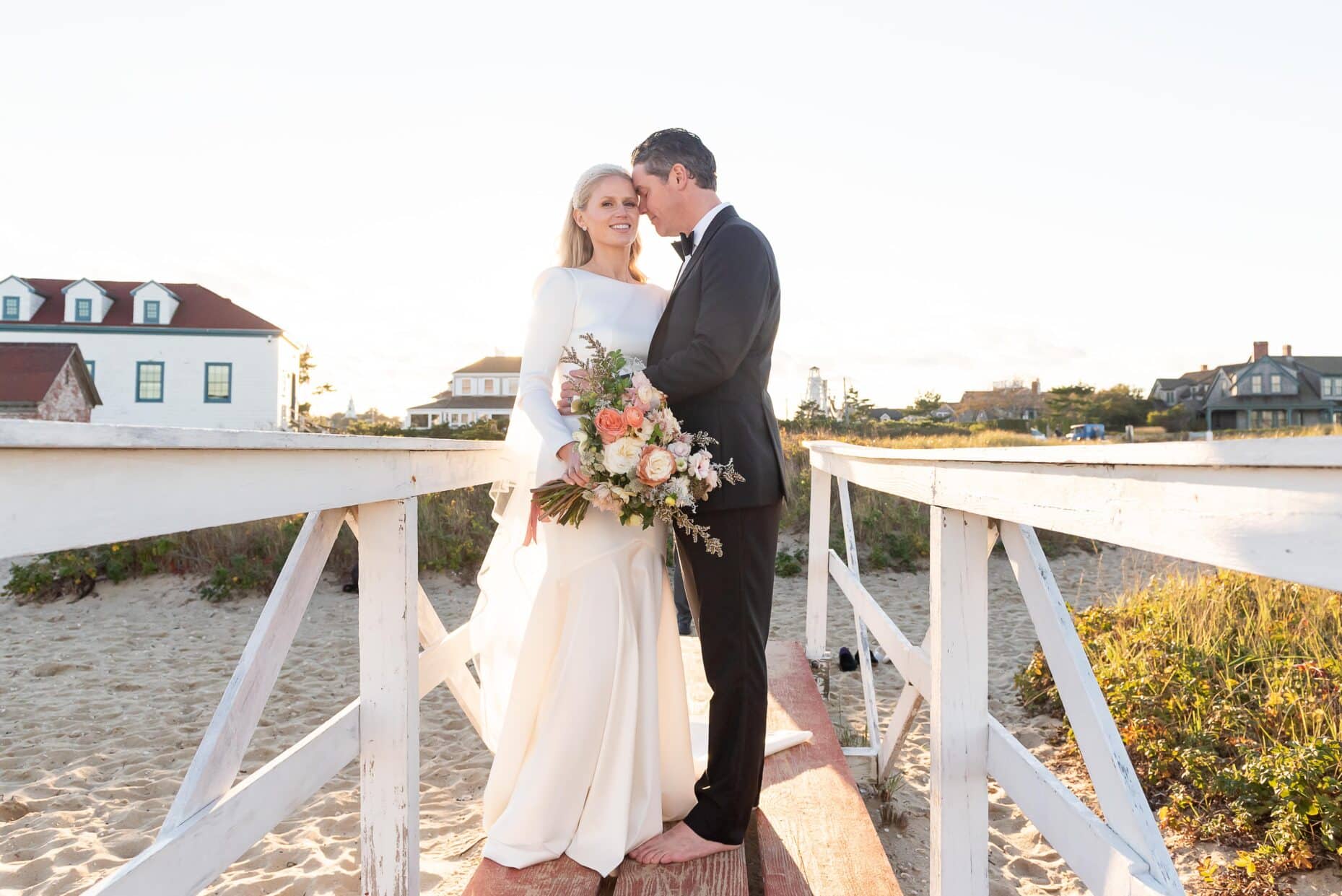 Intimate reception at Via Mare in the Greydon House
The Greydon House set the tone for our design, a stylish boutique hotel with a nod to it's history as a Sea Captain's home. Tucked within the Greydon House, Via Mare is a restaurant located in the heart of downtown Nantucket, a perfect place to host an intimate fall wedding reception. Via Mare offers a moody boho vibe with a Nantucket tavern twist, filled with bud vases and candles, this space was not only inviting but a great way to create a reception that didn't feely stuffy or traditional. We worked with Via Mare to create a delicious family-style menu paired with a wine service that was free flowing throughout the dinner reception. We incorporated modern elements with upgraded linen napkins from La Tavola & custom wood cut out names at each setting.
The couple's dogs, not only made an appearance at the ceremony, but Little Ivy Papergoods created a custom watercolor of Lady Bear and Bandit that we could use throughout the design of the event. The cocktail menu featured the pups plus a his and hers cocktails. Typically Via Mare would be a go to spot to host a rehearsal dinner as it's comprised of three rooms and not a typical layout for a reception. Our team took this as a fun challenge to create a wedding reception experience for our couple and their guests that didn't feel like a typical Nantucket wedding but instead highlighted what a Nantucket vacation would feel like.
Our goal was to make everyone feel like they were still near one another and not missing a beat in another room. With a cozy outdoor patio, we encouraged guests to gather outside for toasts and the first dance, allowing guests to gather in one space. As the reception came to an end, guests were invited out to Nantucket's downtown nightlife for some casual bar hangs before heading back to their accommodations.
How much does a Nantucket wedding cost?
In 2023, it's safe to say a Nantucket wedding budget should start at around $100,000. Why? Because logistically there are a lot of moving pieces and travel fees can be pretty high for vendors. Also, with the wedding being on an island, there are limited resources and availability for venues and vendors so rental rates tend to be on the higher end.
Something that might ruffle a few feathers but is important for me to say is that not every vendor is capable of doing an island wedding. Your wedding planner should be well-versed in unconventional venues, vendors should know how to manage their time and transportation of equipment.
If you're looking to plan your Nantucket wedding be sure to reach out to us because we might have some helpful tips and tricks for you!
Vendor team:
Planning & Design: Cause We Can Events @jesspancake_
Photographer: Barbara Clarke Photography
Welcome drinks: Club Car
Ceremony Venue: Quaker House / Friend Meeting House
Reception Venue: Via Mare
Hair and Makeup: Jennifer Nieman
Florals: Hearts and Honeydo Events
Linens: BBJ/latavola