You know what I love most about our couples? They aren't afraid of making their wedding their own. Love traditions, then incorporate them all if you'd like. Don't love any of them? Throw them out the window and do whatever the heck you want because it's YOUR wedding day. Speaking of badass couples, today we're sharing Kait and Jake's epic 3-day glamping wedding at Under Canvas Zion. Not only was it our favorite time of adventurous wedding but they did things their way. Ready to see what we mean? Read below!
'This blog may contain affiliate links. If you click one and make a purchase, I will receive a small commission at now additional cost to you!'
Getting Ready
We knew going into this weekend that rain might hit us. We didn't realize how hard it would hit us! Don't you worry though, it didn't ruin anything for this adventurous couple or their guests. The day started with some getting ready action with their closest friends in the cool glamping tents at Under Canvas Zion.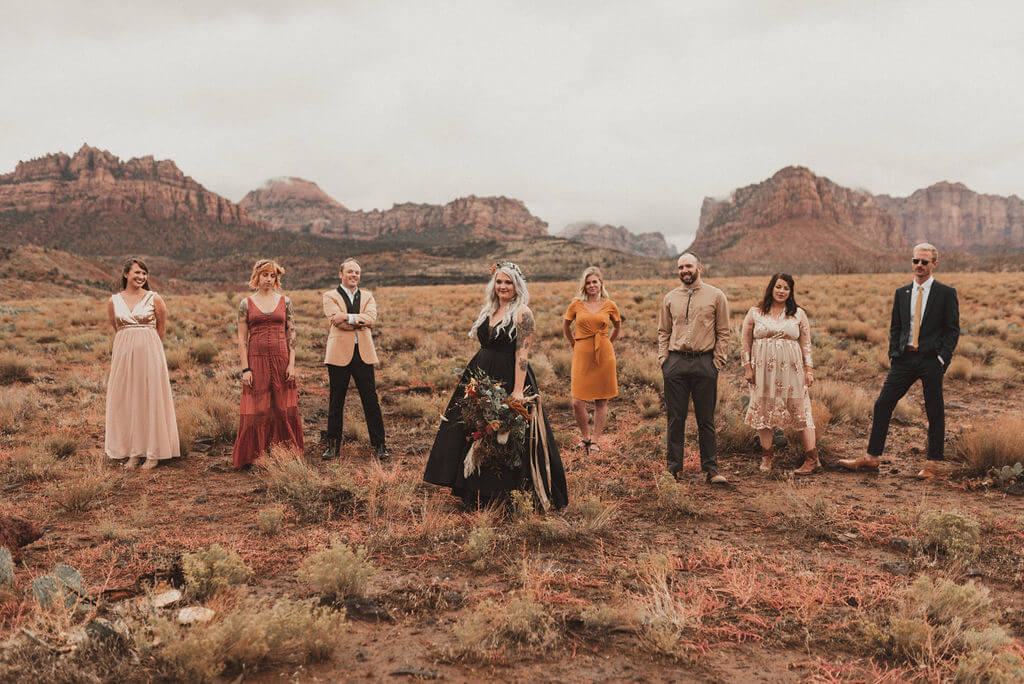 Who had more fun? Guys or girls? I mean the girls had a super cute dog but the guys had a bottle of whiskey. Tough call! By the way, this group's fashion was so cool. If you are inspired by this groom's style, check out some more non-traditional groom suit ideas.
Foggy First Look
The First Look happened a short 5 minute drive away from Under Canvas where the fog was starting to roll in and the couple could share this moment with their closest friends and fur baby.
Moody Details
Oh you want to see the details of this glamping wedding? Ok I guess we'll show you. From the invitations (which they couple designed themselves) to the moody bouquet and stunning tablescapes, this was the coolest moody desert wedding yet!
The bouquet was wild and free with deep tones of red, greens and yellows. Not only did it have perfect colors for a fall wedding but it was rich with texture. From airplants to king protea, this bouquet was one our all-time favorites!
Reception Details
If you've ever been to one of the Under Canvas properties, you'll know that their teepees won't really fit more than 80-90 guests for a reception dinner. Knowing this and knowing that the rain was coming that weekend the couple rented a large tent that housed everyone inside for the reception. Each place setting had a gold charger, black napkin, menu card, gold utensils and a name card written on a piece of dark blue agate.
Asking about the guest capacity is just one of the MANY questions to ask when touring any wedding venue space. If you are searching for your venue, keep our venue walkthrough checklist on hand. You will know all of the important questions to ask, saving you time and money in the long run!
The Ceremony
It rained. No, it POURED. Before and after the ceremony but miraculously for those 15 minutes during the ceremony it stopped and allowed Kait and Jake to get married without getting completely soaked! In the case of rain, you will want to keep a kit on hand (especially for an adventurous wedding like this) here are some of our favorite glamping essentials. You will be prepared for any situation!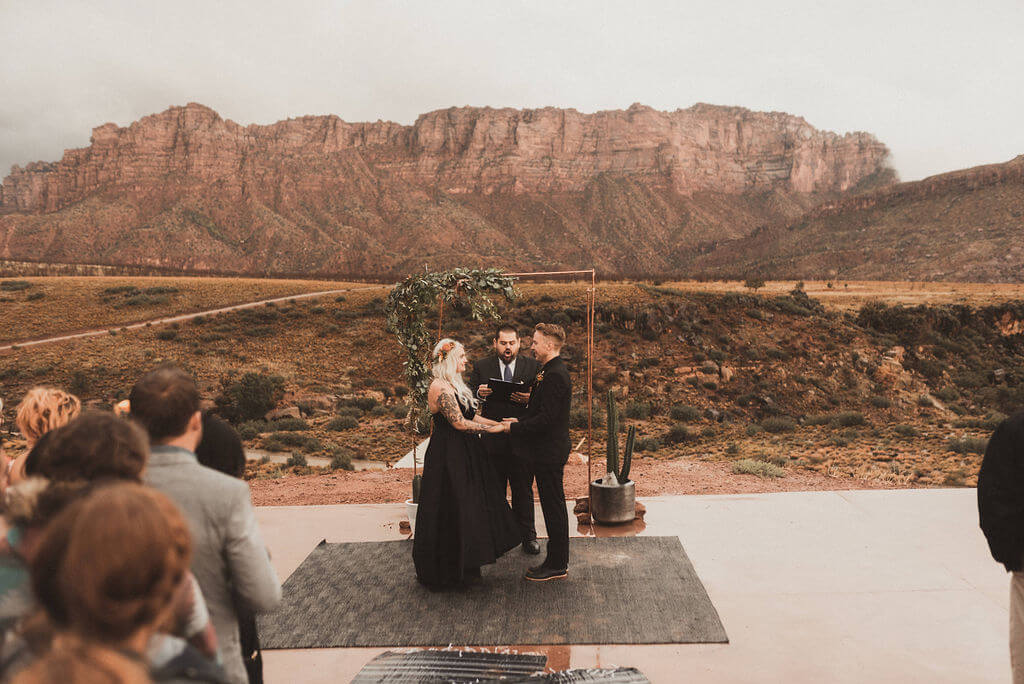 Cake + Party
After dinner, guests moved into the main Under Canvas TeePee where we served cake, cranked the music and let night turn to day as guests danced away. Oh and the coolest part about this party? The couple hired a tattoo artist (yes folks, a REAL tattoo artist) to come and work on whoever signed up. The bride and groom designed the tattoos and guests got to choose which one they wanted. The sign up sheet was full in minutes!
If you are engaged or married and love tattoos, you will love these wedding ring tattoo ideas after you finish reading this blog.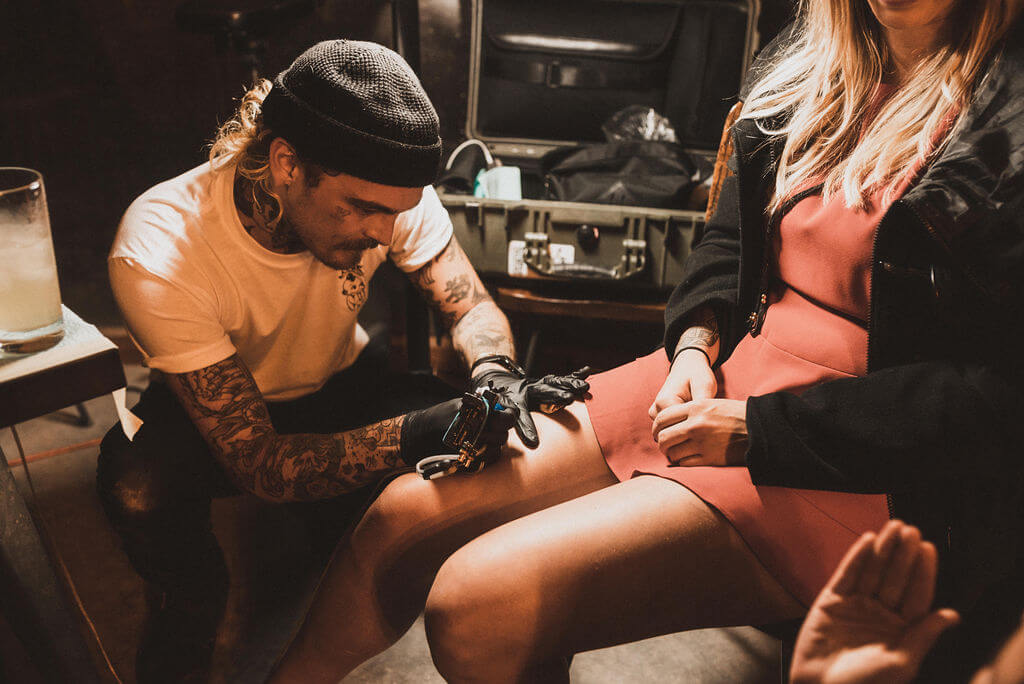 Vendor Team
Planning 'Cause We Can Events // Photographer Guillermo Benetton // Florals By Bloomers // Catering Katering Koncepts // DJ Justin Hurtt // Venue Under Canvas // Tattoo Artist Adam Gibson // Hair+Makeup Tracy Sotirakus // Photo Bus Gus the Photo Bus// Band James Hunter + Forrest
If you loved this wedding, check out another one of our favorite glamping Under Canvas weddings, this time at the Moab location!