Let's talk about diamonds! Unique engagement rings have been more popular than ever in the last couple of years. We love that the rings are not only incredibly beautiful and well-designed but they are starting to reflect the bride's personality. We see new styles almost every day but there are a few that have stayed in our hearts (and dreams). Sometimes a big diamond isn't necessary to make a ring look beautiful. Check out our 5 favorite trends for engagement rings that will make you fall in love all over again.
By the way, if you are reading this blog, you probably have a wedding to plan soon! Our planning team has created a step-by-step wedding day timeline guide to help you plan your perfect event.
This post may contain affiliate links which means if you purchase something from their store I may get a small commission at no additional cost to you. Thanks for supporting!
1. Gemstone
Straying from the traditional diamond setting, we have been in love with the idea of adding color to engagement rings. From Sapphires to Emeralds and even raw diamonds, here are some of our favorites.
2. Nesting Rings
Our absolute favorite are these gorgeous nesting engagement ring and wedding band sets. They range from boho and simplistic to classic and sophisticated. Check these out!
3. Minimal and Modern
These are for the brides in favor of a more simple ring with a modern twist. These rings may have dainty bands but the details are anything but plain!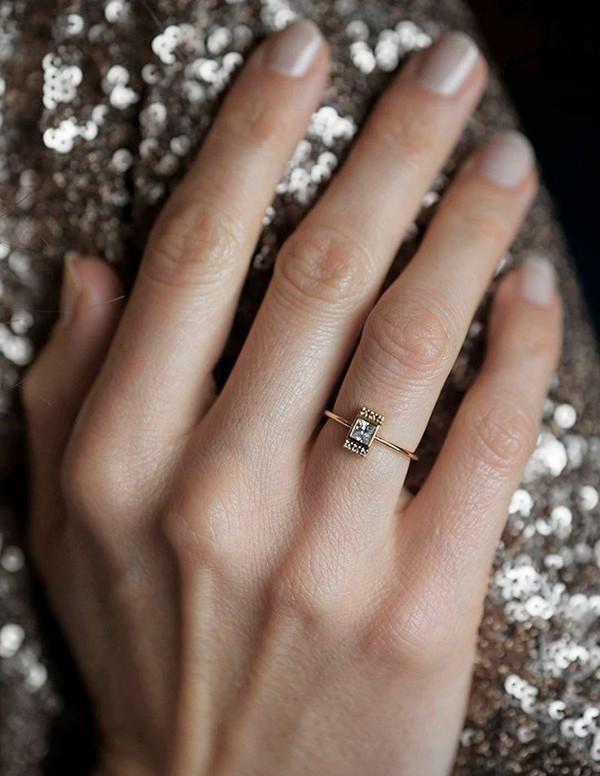 4. Vintage Glam
This trend is for our glitter-loving brides. These rings look like antiques but have the perfect amount of fancy and glam to make your ring never feel outdated.
If you can't decide on one engagement ring, why choose? One of our favorite photographers, Laura Goldenberger captured one of our bride's engagement ring choices. The beautiful bride, Misha loved two very unique styles for her engagement and wedding band so instead of wearing them both on the same finger, she wears them separately or puts one on her left hand. Why not! Voilà! Four of our favorite engagement ring styles that we couldn't help but share with you. Let's admit it, these are absolutely dreamy!
5. Bezel Set Emerald Ring
This bezel set emerald ring by one of our favorite custom engagement ring designers, Love Vérité is so stunning! We love this alternative to a classic diamond. The unique setting and gold color create a modern vintage design.
Looking for even more alternative engagement rings? Check out our blog on Wedding Ring Tattoos next!